our menus change every week. make your choice from this week's menu, then add sweets and sides.
delivery across London, just £15 - made from scratch on the day - delivered to your desk or doorstop in sustainable packaging.
vegan, vegetarian, free-from options available

please enquire for bespoke catering
this week's lunch boxes
choose from this week's menu, and then add sweets and sides to your order.
also available in platters for 5 people.
parmesan chicken, avocado £8
[not pictured]
£8 per person or £40 for a platter for 5
chicken salad with tender chicken breast and avocado, over chopped leaves, basil, rocket, cherry tomatoes, radish, parmesan crisps and a yoghurt parmesan dressing.
add bread + £1.5 £8.00 per person or £40 for a platter for 5
a rif on the classic middle eastern sandwich - jammy egg, roast aubergines, chopped salad with tomatoes and cucumber, chickpeas, tahini dressing.
(allergen info: contains sesame)
add chicken + £1.5 | add pitta +£1.5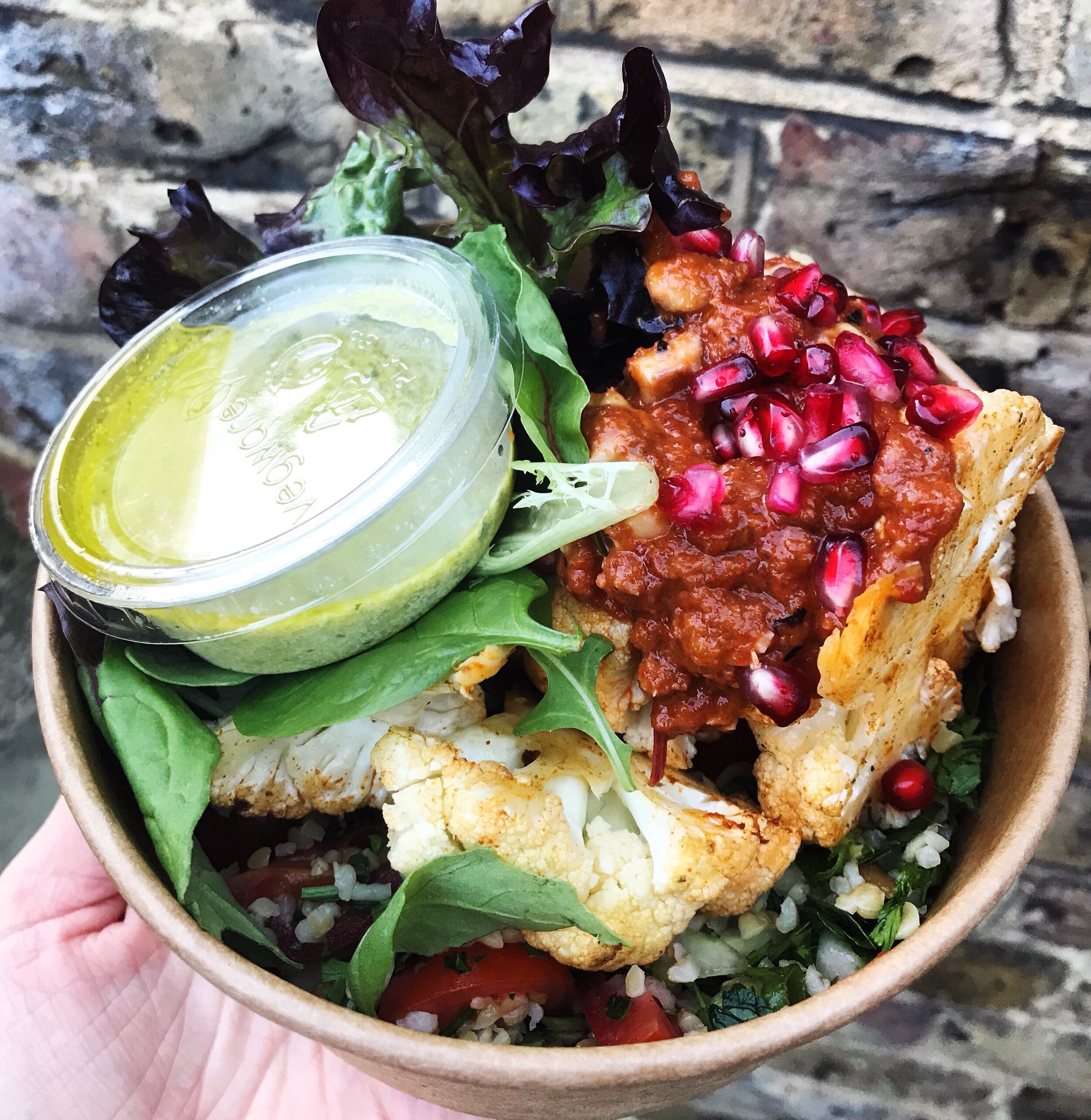 cauliflower and romesco sauce (vegan) £8.00
£8 per person or £40 for a platter for 5
roast cauliflower with romesco sauce (walnuts, pomegranate molasses, breadcrumbs), tabbouleh salad, lemon dressing. (contains gluten, nuts)
add chicken + £1.50 | add avocado +1.50 | add egg +£1.50
grilled vegetable and fresh pesto ciabatta £5.5
freshly baked ciabatta, stuffed full of grilled, marinated vegetables, rocket, parmesan, pesto and drizzled with extra virgin olive oil. add in chicken for extra protein.
add chicken +£1.5 | add hummus +£1.5
grazing menu
want something to nibble at ? take a look at our grazing menu by clicking below.
*These are perfect for pre lunch or dinner nibbles (for a meal replacement, please enquire!)
additional proteins
hot smoked salmon portion £4
chicken breast £2
whole avocado £2
7 minute egg (2) £2
sides
Hummus pot £4
tyrells salt & vinegar crisps £1
propercorn popcorn £1.50
crusty seeded bread & butter £1.50
whole avocado £2
Drinks
san pellegrino lemon £1.50
how it works
min order: £100.

delivery fee: £15

please provide 24-48 hours notice on orders

we do require payment in advance on larger orders

all food delivered cold, unless otherwise specified

please enquire regarding custom orders

food boxed individually, unless otherwise specified. the minimum platter order is for 5.

please enquire regarding allergens or intolerances. Please note all items are made from scratch in a kitchen that handles nuts, peanuts, gluten, sesame, eggs, soy, dairy etc. Although we take every care over allergens, we cannot guarantee that food will be free from traces. do note that it is the person who places the order's responsibility to let us know of allergy requirements. thanks!